The team
LOUIS BAUDRON
President
Louis Baudron was born 'in the purple' in the racing world having two grandfathers who are thoroughbred and trotting legends. Importantly, Roger Baudron and Jean-Pierre Dubois have both instilled values of daring, work and curiosity into him.
He set up as a trainer at a young age, and now trains both trotting and thoroughbred horses. Winner of 5 group 1's as a driver and 7 times as a trainer including the Prix du Cornulier in 2013, Louis Baudron is constantly looking to improve his techniques and knowledge thanks in part to his travels, where he brings back the best of both traditional and innovative ideas.
ARNAUD ANGÉLIAUME
General director
Arnaud Angeliaume, benefitting of his experience as a trainer-driver, and also as a Director of a leading bloodstock auction house for the last five years, brings his skills and knowledge of the horse racing industry and his 'savoir-faire' in business to Auctav.
For Arnaud, modernisation, optimisation and improving the auction market by taking it 100% online offers a way to bring together the best of both tradition and innovation.
Arnaud is the General Director and oversees the trotting sector.
CÉCILE ADONIAS
Administrative & communication consultant
After a diploma in finance and international trade, Cécile added the Equine Science and Business Executive Specialised Master (MESB) to her CV. She joined the RMC Horseracing Syndicate as project manager and then moved to the French Racing and Breeding Committee (FRBC) for five years.
In 2019 she set up CAVA associates to provide bloodstock and consulting services to different sectors of the industry. She brings to AUCTAV skills developed through her experience in commercial and financial world as well as her extensive knowledge of the bloodstock industry.
KATIE RUDD
Bloodstock consultant
Born in England into a NH family, Katie Rudd trained and rode in point to points in Great Britain. She spent time in France with François Doumen as well as with the International Racing Bureau (IRB) in Paris.
In Ireland for the last 12 years she has developed her business 'Busherstown', focusing on breeding and bloodstock activity with a real expertise in pinhooking in France, Ireland and United Kingdom. Today, Busherstown is one of the leading NH consignors.
Katie is the flat & national hunt consultant.
Toby Jones
Bloodstock consultant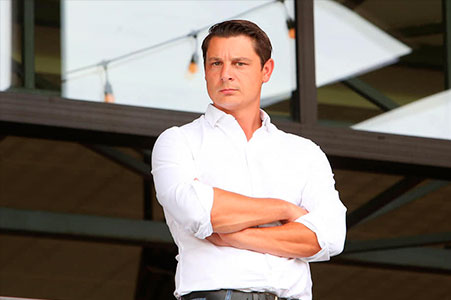 Toby Jones settled In France with all his family 20 years ago. His parents have a stud farm in South West of France. Toby furthered his knowledge with Julian Ince at Haras du Logis then with Jean-Marc Lucas at Haras du Berlais.
Toby Jones then started up as a bloodstock agent and found in breeze up sales and claiming races Group 1 horses.
He will focus on the selection of horses in training for Auctav.
Anne-Cécile Flindt
Administration and Communication Officer
She is your first contact within Auctav and the Swiss Army knife of the team. In English or with some Swedish and Spanish, as well as in French, she will be pleased to answer all your administrative and sales organization questions.
Rider and groom in show jumping stables, she has also worked in racing stables at La Frênée stables and has even ridden in pony races.
Geologist by training, down to earth Norman girl, project engineer and then creator of her company INGEO - A combination of passion and rigor to answer all your requests.